Purchase tickets now for "Clara's Tale" – A Holiday Ballet
.
Two performances: December 7 at 6pm and December 8 at 1pm.

Based on the story of the Nutcracker, Clara's Tale integrates new ideas, concepts and morals to the storyline. The Amyclae Staff has put together an inspirational ballet that will entertain people of all ages. Adding fun characters like the forest fairy, a princess, forest animals, stepmother and more. Using the famous Tchaikovsky's Nutcracker music, the dancers of Amyclae will bring new meaning to the spirit of Christmas.
Purchase tickets in advance at 45 Walpole St Stafford, VA or purchase on the days of performances at the door. For questions call 540-657-1744 or email
info@AmyclaeDance.com.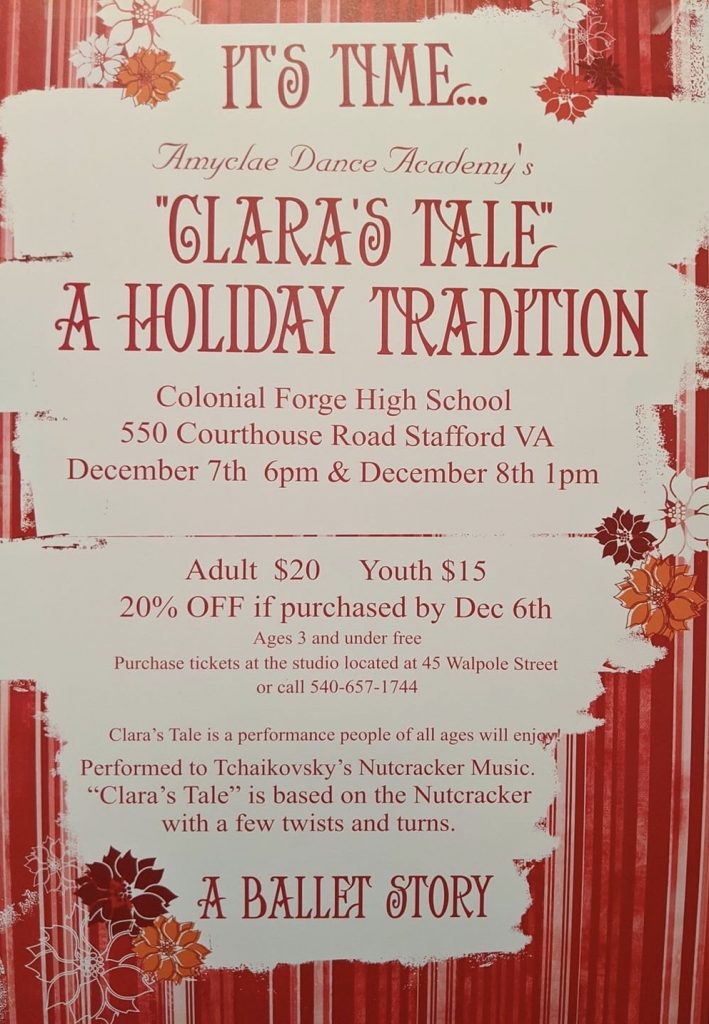 Welcome to Amyclae! The academy encourages a theory of 3 Ds: Discipline, Dedication and Determination. Our mission is to:
Teach discipline, dedication, & determination through dance.
Encourage, motivate, & inspire students to reach their fullest potential.
Build confidence & self-esteem in students that they will take with them through their life.
If you're searching for a studio for your children, consider giving them the best. Consider Amyclae Dance Academy.