Fredericksburg Christmas Parade
Saturday, December 2nd
Please join Amyclae Dance Academy by marching in the annual Fredericksburg Christmas Parade!!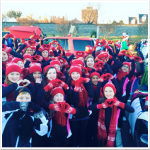 Any Amyclae student with an Amyclae Personalized Jacket may perform in the parade. You may order an Amyclae Personalized Jacket at the front desk no later than October 1st.
All students not on the competition team will need to sign up to march in the parade at the front desk by October 1st. Note: This event is mandatory for all ADA Competition Team members.
Required Attire (Provided by Student)
ADA Studio Jacket
Black Jazz Pants (No leggings)
White Sneakers
A scarf, hat and/or gloves will be ordered by ADA so all students have the same attire. The fee will be between $15-$25 and will be charged to your studio account once items have been ordered.
No additional fees are required for rehearsals but students must be able to attend both rehearsals to learn the parade dances. The Parade is Saturday, December 2nd and the exact times to check in are to be determined and announced at a later time.
If you have an ADA Jacket sign up to join in the FUN!!
Girl Scout Troops
EARN YOUR DANCE BADGE
Amyclae Dance Academy Girl Scout Program for Daisies, Brownies, or Juniors
Contact Amyclae studios at info@AmyclaeDance.com, 540-657-1744
ADA Jackets
Amyclae is now taking orders for personalized jackets and warmups. Order now because you can only get these one time a year. Taking orders only through October 1st.
Reasons to purchase:
All Competition Team members must order Jackets and Warm-Ups for competitions, if they do not already have these.
In order for any Amyclae dancer to perform in the Fredericksburg Christmas Parade, you must have an Amyclae jacket. All Amyclae dancers are invited to perform in the parade with the team as long as they have an Amyclae jacket.
Jackets & Warm-Ups make great holiday or birthday gifts!
Support our ADA competition team by wearing your own Amyclae jacket at the competitions.
Jackets and warm-ups are available for males and females in youth and adult sizes.
Jackets include your first name on the front and Amyclae Dance Academy on the back. Please see the front desk during the month of September to order or send request to info@AmyclaeDance.com.